Posts for tag: teeth grinding
By Advanced Family Dental of Naperville
November 15, 2021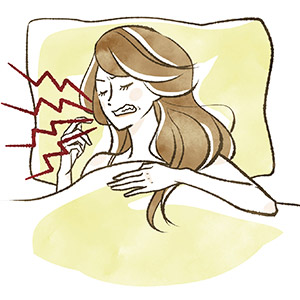 We like to think we're more prone to stress in our modern, fast-paced world than those who lived in "simpler" times, but a finding from the recent discovery of Richard the III's remains in England suggests differently. Investigators noted the king had well-worn teeth, perhaps from grinding them out of stress.
We can't be sure this was the cause for the king's dental problems, or if teeth grinding was common in the 15th Century. But we are sure the problem exists today among adults.
Tooth grinding is the grinding, gnashing or clenching of teeth involuntarily when not engaged in regular dental functions like eating or speaking. It can occur while a person is awake, but most often while they're asleep.
The habit regularly occurs in children, but is not considered a major problem as most outgrow it by adolescence, usually with no lingering damage. Not so with adults: Because the habit generates abnormally high biting forces, teeth grinding can lead to accelerated tooth wear. It can also weaken teeth, making them more susceptible to fracture or disease.
People who grind their teeth will typically awaken with sore jaws or the complaints of family members about the loud chattering noise emitted during an episode. If you suspect a problem, you should see your dentist for a definitive diagnosis, and to learn how to reduce its occurrence and effects.
Treatments for the habit vary depending on underlying causes. They may involve lifestyle changes like quitting tobacco, limiting alcohol or altering your use of certain drugs or medications.  Because stress is often a major factor, learning better relaxation techniques through meditation, group therapy or biofeedback may also help reduce teeth grinding.
These treatments, though, can take time, so you may also need ways to minimize the effects of the habit in the meantime. One of those ways is for your dentist to create an occlusal guard that you wear while you sleep. The guard prevents the teeth from making solid contact, thus reducing the potential biting forces.
It's important, then, to see your dentist as soon as possible if you suspect you're grinding your teeth. Finding out as early as possible and then taking positive steps to stop or reduce its effect can save your teeth from a good deal of harm.
If you would like more information on teeth grinding, please contact us or schedule an appointment for a consultation. You can also learn more about this topic by reading the Dear Doctor magazine article "Teeth Grinding."
By Advanced Family Dental of Naperville
March 21, 2019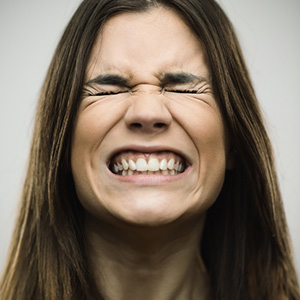 Do you grind your teeth? If you're not sure, ask your family—sometimes the sound of teeth grinding against teeth might make enough noise to be keeping them up at night. You might also be waking with sore jaw muscles and joints.
If you suspect you have this habit of involuntarily grinding, gnashing or clenching your teeth, it's a good idea to get it checked. Here are 3 things you should know about this odd habit.
Teeth-grinding more prevalent among children. Children are more likely than adults to grind their teeth in their sleep, thought to be a consequence of their developing swallowing mechanism, but usually grow out of it without any long-term effects. Adults with the habit seem to grind their teeth for different reasons, one of the most significant being a response to high stress. Tobacco could be another factor: users are twice as likely as non-users to grind their teeth. Adult teeth-grinding may also be associated with high caffeine consumption, illicit drug use or Parkinson's Disease, which impairs brain nerve function.
Sleep apnea can be an underlying cause. There's one other major underlying cause to add to that list: obstructive sleep apnea. One international study of thousands of patients from different countries found both high anxiety or stress and sleep-related breathing disorders were two of the most significant risk factors for adult teeth-grinding. It's believed the physical stress generated by these temporary episodes of breathing obstruction occurring several times a night could trigger teeth-grinding.
Teeth-grinding can cause dental problems. While having a teeth-grinding habit doesn't automatically mean you'll have dental issues, your risk can increase dramatically. Due to its chronic nature, teeth-grinding can lead to excessive tooth wear, dental work damage or jaw joint dysfunction. In some extreme cases, it could cause tooth fracture.
If you grind your teeth, your dentist may be able to help by creating a custom-made occlusal guard that can reduce biting forces while you're wearing it. You might also minimize teeth-grinding by quitting tobacco and other lifestyle changes, or getting a better handle on stress management. And if you're also diagnosed with obstructive sleep apnea, getting treatment for that condition will not only improve your overall health, it could help put an end to your teeth-grinding habit.
If you would like more information on bruxism, please contact us or schedule an appointment for a consultation. You can also learn more about this topic by reading the Dear Doctor magazine article "Teeth Grinding: Causes and Therapies for a Potentially Troubling Behavior."
By Advanced Family Dental of Naperville
July 10, 2017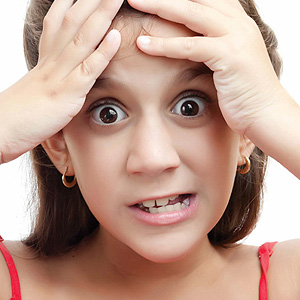 Teeth grinding is one childhood habit that sounds worse than it usually is: often the most harm done is to your night's sleep. That said, though, it's still a habit to keep your eye on.
Also known as bruxism, teeth grinding is so common among children that it's considered normal behavior by many healthcare professionals. As for causes, some suggest a child's immature neuromuscular chewing control may trigger it, while others point to the change from deeper sleep to a lighter stage as a possible cause. Problems like airway obstruction, medications or stress also seem to contribute to the habit.
For most children, teeth grinding usually fades by age 11 with no adverse effect on their teeth. If the habit extends into adolescence, however, there's an increased risk for damage, mainly tooth wear.
This can happen because grinding often produces chewing forces 20-30 times greater than normal. Over time this can cause the biting surfaces of the teeth to wear and reduces the size of the teeth. While teeth normally wear over a lifetime, accelerated wear can pose a significant health risk to your teeth. Any sign of tooth wear in a child or adolescent is definitely cause for concern.
If your child's tooth grinding habit appears to be developing into a problem, your dentist may recommend a few treatment options. The most common is a thin, plastic night guard worn in the mouth during sleep that prevents the upper and lower teeth from making contact. If the suspected cause is airway obstruction, they may refer you to an ear, nose and throat (ENT) specialist to seek treatment for that, as well as other professionals to help with managing stress or medications.
Like thumb sucking, the habit of teeth grinding usually ends with no permanent ill effects. But if you notice it continuing late into childhood or your dentist finds tooth wear or other problems, take action to avoid problems long-term.
If you would like more information on childhood bruxism, please contact us or schedule an appointment for a consultation. You can also learn more about this topic by reading the Dear Doctor magazine article "When Children Grind their Teeth."