Posts for tag: periodontal disease
By Advanced Family Dental of Naperville
February 05, 2014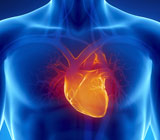 Your body's organ systems are interlinked — what happens in one system may affect another. An example of this is the interrelationship between periodontal (gum) disease and cardiovascular disease (CVD).
Medicine has discovered a common link between these two different conditions — inflammation. A result of the body's defense mechanisms, chronic inflammation is damaging to both your mouth and your heart. Inflammation can destroy the gum's soft tissue and underlying bone and lead to tooth loss. In the cardiovascular system, inflammation can begin and accelerate the buildup of plaque within arterial blood vessels (atherosclerosis). This inhibits the flow of oxygenated blood to both the heart and brain, which sets the stage for a heart attack or stroke.
Gum disease begins with poor oral hygiene. When brushing and flossing aren't performed on a regular basis, or not performed adequately, it allows a thin layer of bacterial plaque called biofilm to build up on the teeth. The bacteria cause infection in the soft tissues of the gum that triggers the chronic inflammation. Because it's often unaccompanied by other signs of infection like fever, a patient may not even be aware of it. There's evidence now that inflammation caused by moderate to severe gum disease can contribute to a similar response in blood vessels.
We can treat the gum disease and reduce or eliminate the inflammation. This first requires the removal of all plaque and calculus (harder deposits) on the teeth, down to the root level. It may require surgery to access these areas and to help regenerate some of the lost tissue and bone that support the teeth. It's also important to institute proper oral hygiene — effective daily brushing and flossing, semi-annual office cleanings and checkups.
In a similar way, you should address signs of inflammation in your cardiovascular system, including blood pressure management and the control of LDL (bad) cholesterol. Because both gum disease and CVD share many of the same risk factors, you can positively impact both your oral and general health by eating more nutritional foods, engaging in regular exercise and quitting tobacco products.
Treating any symptom of inflammation is important to improving your total health. By bringing gum disease and its accompanying inflammation under control, you may in turn help your heart and blood vessels.
If you would like more information on the relationship between heart and gum diseases, please contact us or schedule an appointment for a consultation. You can also learn more about this topic by reading the Dear Doctor magazine article "The Link Between Heart & Gum Diseases."
By Advanced Family Dental of Naperville
July 19, 2013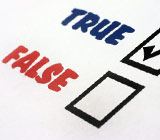 Periodontal disease is the leading cause of tooth loss in adults. A recent survey by the Centers for Disease Control and Prevention showed that nearly half of Americans older than 30 had some signs of periodontal disease. That's more than 64 million people.
How much do you know about this potentially serious disease? Take our quiz and find out.
True or False: Gum Disease is caused by bacteria in the mouth
TRUE. Of the hundreds of types of bacteria that occur naturally in the mouth, only a small percentage are harmful. But when oral hygiene (brushing and flossing) is lacking, these can build up in a dental plaque, or biofilm. This often causes inflammation of the gums, the first step in the progression of gum disease.
True or False: Gum disease is more prevalent among younger people
FALSE. Gum disease is most often a chronic disease, meaning that it progresses over time. Statistics show that as we age, our chances of developing gum disease increase, as does the disease's severity. In fact, according to the study mentioned above, about 70% of adults 65 and over have mild, moderate or severe periodontitis, or gum disease.
True or False: Bleeding of the gums shows that you're brushing too hard
FALSE. You might be brushing too hard — but any bleeding of the gum tissue is abnormal. Gum sensitivity, redness and bleeding are typically the early warning signs of gum disease. Another is bad breath, which may be caused by the same harmful bacteria. If you notice these symptoms, it's time for a checkup.
True or False: Smokers are more likely to develop gum disease
TRUE. Not only are smokers more likely to develop gum disease, but in its later stages they typically show more rapid bone loss. Smoking also prevents the warning signs of gum disease - bleeding and swelling of the gum tissues - from becoming apparent. Other risk factors for developing the disease include diabetes and pregnancy (due to hormonal changes). Genetics is also thought to play a role in who gets the disease — so if you have a family history of gum disease, you should be extra vigilant.
True or False: The effects of gum disease are limited to the mouth
FALSE. Numerous studies suggest that there is a relationship between periodontal health and overall health. Severe gum disease, a chronic inflammatory disease, is thought to increase the risk of cardiovascular diseases like heart attack and stroke. It may also lead to complications in pregnancy, and problems of blood-sugar control in diabetics.
So if you have any risk factors for gum disease, or if you notice possible symptoms, don't ignore it: let us have a look. We can quickly evaluate your condition and recommend the appropriate treatments if necessary. With proper management, and your help in prevention, we can control gum disease.
If you have concerns about gum disease, please contact us or schedule an appointment for a consultation. You can learn more in the Dear Doctor magazine articles "Understanding Gum (Periodontal) Disease" and "Warning Signs of Periodontal (Gum) Disease."